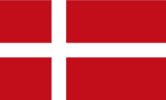 100% Made in Denmark
LOOKING FOR A UNIQUE ENTRANCE DOOR?
Kastrup Windows offers inward opening and outward opening doors in all types of designs, in a myriad of colours and with countless accessories. Below you can choose between panelled doors and front doors and view the design that matches your individual wishes. Click on the design you prefer and read more about your options.
In addition to traditional wood/aluminium doors with a MDF wood panel, you also have the option of the exclusive AluFrontLine series. The AluFrontLine door was designed by Kastrup Windows with a solely aluminium exterior and wood interior, making the door far more resistant, stable and exclusive.
The front door has a frame and a sash instead of a panelled door leaf. The sash is constructed with either glass or fillings, or a combination of the two.
The front door features a filling with aluminium on the outside and MDF on the inside. Both the front door and the panelled door are similar to the design of the corresponding window series.